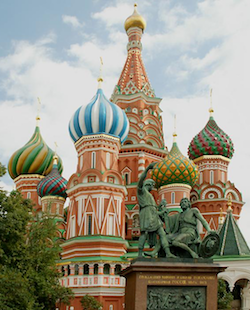 It is not easy to define clear stages in development of Russia as a country. On the modern territory of Russia there were many different tribes and they founded their settlements along the main waterways connecting the Baltic sea with the Black sea. First mentioning of them is dated by 9th century.
In the beginning of the 9th century there were many cities on the territory of the FSU. Viking tribes from Scandinavia led by Rurik occupied the city of Novgorod in 862 and began their expansion over these vast territories. Such occupation went further to the south and reached Kiev, a big Slavik city founed on the river Dnepr in the 5th century. Oleg, Rurik's successor made Kiev his residence and it became a center of trade between Scandinavia and Constantinople. From here on Kievan Rus has begun growing as the empire. This empire was the beginning of Russia and the countries like Ukraine and Belarus.
In the year 988 Oleg's ancestor Vladimir decided to become closer to Western countries and Constantinople through changing the existing pagan religion in that area into Greek Orthodox religion. In that time the empire was widened up to the Black sea in the South, the Caucasian mountains in the East and reached Volga river.
Struggle with Tatar Invasion
Kievan Russ reached the prime of its blossom during the rule of Yaroslav the Wise. But in the beginning of the 13th century Kiev was destroyed by the Mongols. From that time on Kievan Rus was split into many dukedoms. Khanate of the Golden Horde stretched its empire all over Asia and Russia got under its suzerainty.
Today we know the Grand Prince Dmitry Donskoy for his great battle with the Tatars which he won defeating Khan Mamai at Kulikovo Field. It didn't free Russian from Tatar invasion but it made the year 1380 a year of a big turn in Russian history.
Guess what is inside!

A_N_N_I_G_M_A

"Ah, woman. She is an enigma. An anomaly of perfection and irony. She can lure angels into her arms & give birth to a nation of ideologies." ― Ace Antonio Hall The rest is ... more about Ganna from Kremenchug

credit(s) to open a letter from her
Will you love me forever?

_AngelWoman_

I am independent woman, has good education and try to improve myself both in my profession and in other fields. I like to joke and believe that even in work it may help to make the... more about Bogdana from Odessa

credit(s) to open a letter from her
Believe in love!!!

Cullinan1983

Many people want to write and show themselves on the best side in order to create the illusion of an innocent princess) I will not do this, since I am committed to serious and real... more about Christina from Kyiv-Lugansk

credit(s) to open a letter from her
Wanna date a BOOTY BABY?)

UR_DESERT_ROSE

Trying to bring all of my dreams into reality! Simple girl from Ukraine but work and live in Dubai. My life connected with a sport and fitness and I found a way of how to m... more about Julia from Dubai

credit(s) to open a letter from her
The future is yet in our power

jollycup_cake

If you were seeking for a wife for a long time, that you should STOP it immediately! I am here for you and we have a chance to be happy. I might tell you many good things about m... more about Yana from Kiev

credit(s) to open a letter from her