Life in the FSU countries has never been easy and is not easy now. Women in Russia, Ukraine, Belarus and other FSU republics had to go through many difficulties bringing up their children, trying to create comfortable living for their families. They had to be strong all the time. Probably it goes back into the time of the World wars when women were left home with children and all home work (both men and women work), and men went to fight for their motherland.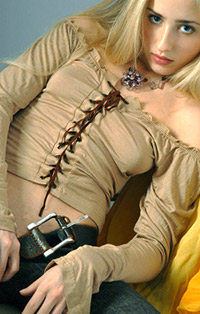 This created such mentality which makes girlsbe strong in any situation, never give up and go ahead whatever happens. Most women keep this mentality and strong character even now, when times are more peaceful but nevertheless not much easier.
On the other hand each beautiful Russian woman wants to be able to feel a woman, to feel weak and not to have to work hard and struggle hard every day. Their shoulders are fragile and it is difficult for them to bear hard life. Girls dream to be someone's princess, someone's tender flowers which need nourishment and care. They need love, mutual love which would make them feel needed and desired. And this desire is very natural, but very difficult to fulfill.
Many women believe that they can find a good and decent man among Western men. They hope to meet someone who will give them the love and care they deserve and they are ready to give back twice more. That is why many beautiful charming Russian girls come to international dating and try their luck there. Everyone can try luck in this kind of dating, find a loving woman and take care of her fragility. Such woman will definitely make her man feel strong and solid beside her. She will make the best wife and mother, and will become your dream partner.