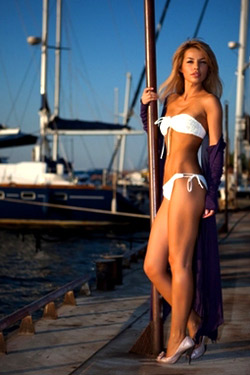 Here are put some advices how to meet your cherished lady online. Before you will read these lines, it would be desirable to note that these charming and lovely Russian women never disappoint the expectations of those who truly love them.
And firstly you should set to yourselves some questions deciding the reason why you are doing it. Do you really want to have a long and lasting relationship with a Russian lady? Or you just wish to try how it is to have sex with the Russian woman. In any case you should think well and choose a site which will help to satisfy your requirements.
You are definitely right because of choosing a way to meet Russian women online because you will have a huge choice of variants among candidates there. Actually, the marrying to Russian woman is the dream of many men to meet a good one. The question, however, remains is it possible to meet the suitable Russian women online? Neither the man nor the woman both are not insured from an error. On the other hand, if you do not undertake any steps towards a realisation of your dream and desires, so in this case you lose a chance to be happy.
The population is growing and towns are getting bigger. People are now more mobile, and they don't know each other as well as they used to. The way to get acquainted with the woman through online is possibly a little bit longer, but actually it is not such difficult as it seems at first sight, and in some moment you will feel interest and enjoy what you are doing. When you have a well recommended site, then investigate its history and even letters with pictures of those who have already established their personal life.
On the other hand you shouldn't put the big hopes on a searching your cherished lady through a site. It is normal that having viewed a lot of pretty ladies' pictures your heartstrings will be pulled; you can lose your head and forget about all precautions. You must be ready to face any broken dreams that may come with your choices. Just because she looks so decent at her pictures does not mean that behind her photos is not hidden a male who has own intentions. You should be ready to any unexpectedness.
At the beginning you should have mind about site policies. It is a card in hand to know the policies of a site before paying for it and then getting disappointed. What happens if you pay for the site and then it comes to clear that you may only chat with the woman and your acquaintance will not go outside your rooms?
Majority of the websites will most probably ask you for a membership fees. These are normally paid by credit card, and you should have one to pay for services. They must guarantee that your credit card information is privately kept while being transferred over the Internet. And not only your credit card information is transmitted securely, but all of the information is transmitted in secure mode to insure privacy.
Another part in safely meeting Russian ladies online is in the information exchanged. You must know for certain, whether the information received from you, will be reliably protected. Have you been guaranteed not having your consent nobody will obtain your data? You should be always cautious if it concerns your personal information.
If you want to safely meet Russian women online you should also be aware of the risks. And at last while talking to your lady; make sure that your conversations will have confidential character. Make sure that nobody is allowed to use your personal information in one's own mercenary purposes.